Date: 22 Jan, 2021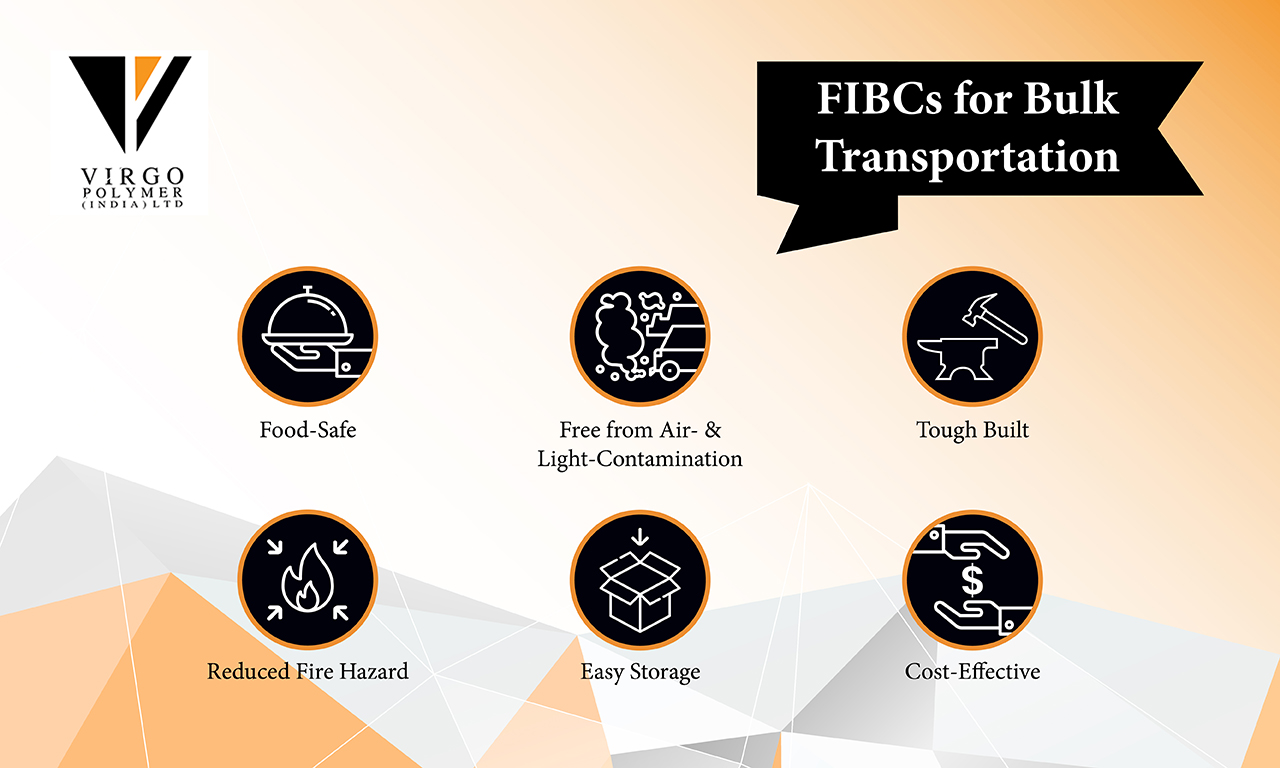 Transportation businesses are in constant need of efficient and cost-effective solutions for their business. But identifying a product which meets both the criteria can be a challenging task. This is where FIBCs come into the picture. FIBCs or Flexible Intermediate Bulk Containers are smartly engineered bag-style-containers that are purpose-built to carry any form of bulk material. Here are 4 reasons why the versatility of FIBCs make them the right solution for you to transport your bulk goods hassle-free!
1. Food-Safe
FIBCs are an excellent option for carrying food-grade products since they prevent contamination of a variety of food products. Whether you are planning on transporting dried food materials or granulated or powdered ones, FIBCs offer a flexible and safe choice. Although it can safely transport almost all grades of powdered materials without spillage, you can always opt for liners to make the transport extra-secure.
2. Free from Air- & Light-Contamination
Air or light contamination can be a major hazard when transporting powdered or dry chemicals, including pharmaceutical items. FIBCs can be used to protect the chemicals from above contamination during transportation.
3. Tough Built
Transporting high-density materials used in construction and building, like cement, soil, gravel, etc. can present extreme challenges and thus need containers that offer both durability and flexibility. Both of these qualities are offered by FIBCs that expertly mould their shape based on what is stored in them, reducing damage to their own structure and thus ensuring waste-free transportation.
4. Reduced Fire Hazard
Transporting flammable materials can pose a serious fire hazard, especially when exposed to high friction and build up of electrostatic charges. This is where Type C and Type D FIBCs made out of high-grade plastic help with their static-control properties. This ensures the safe transfer of flammable products.
5. Easy Storage and Cost Effective
FIBCs are collapsible and take almost no space to store, as compared to their capacity, decreasing storage costs exponentially. You can store your empty FIBCs in most types of environments without causing them serious harm. So, whether you are a small business with small storage or a large one, you can make use of FIBCs without having to invest in a lot of storage space.
The best thing about these multifaceted FIBCs, like all good products, is that they are affordable and therefore can be utilised by both small and large businesses. You can use them to transport almost all types of products without raising your transport costs substantially, making FIBCs a truly versatile product.
he above list is not exhaustive but definitely gives a glimpse into the versatility of FIBCs and the whole spectrum of transported goods that they can help carry. To learn more about the different grades of FIBCs and which one might be the best for you, stay tuned!