Date: 28 Feb, 2023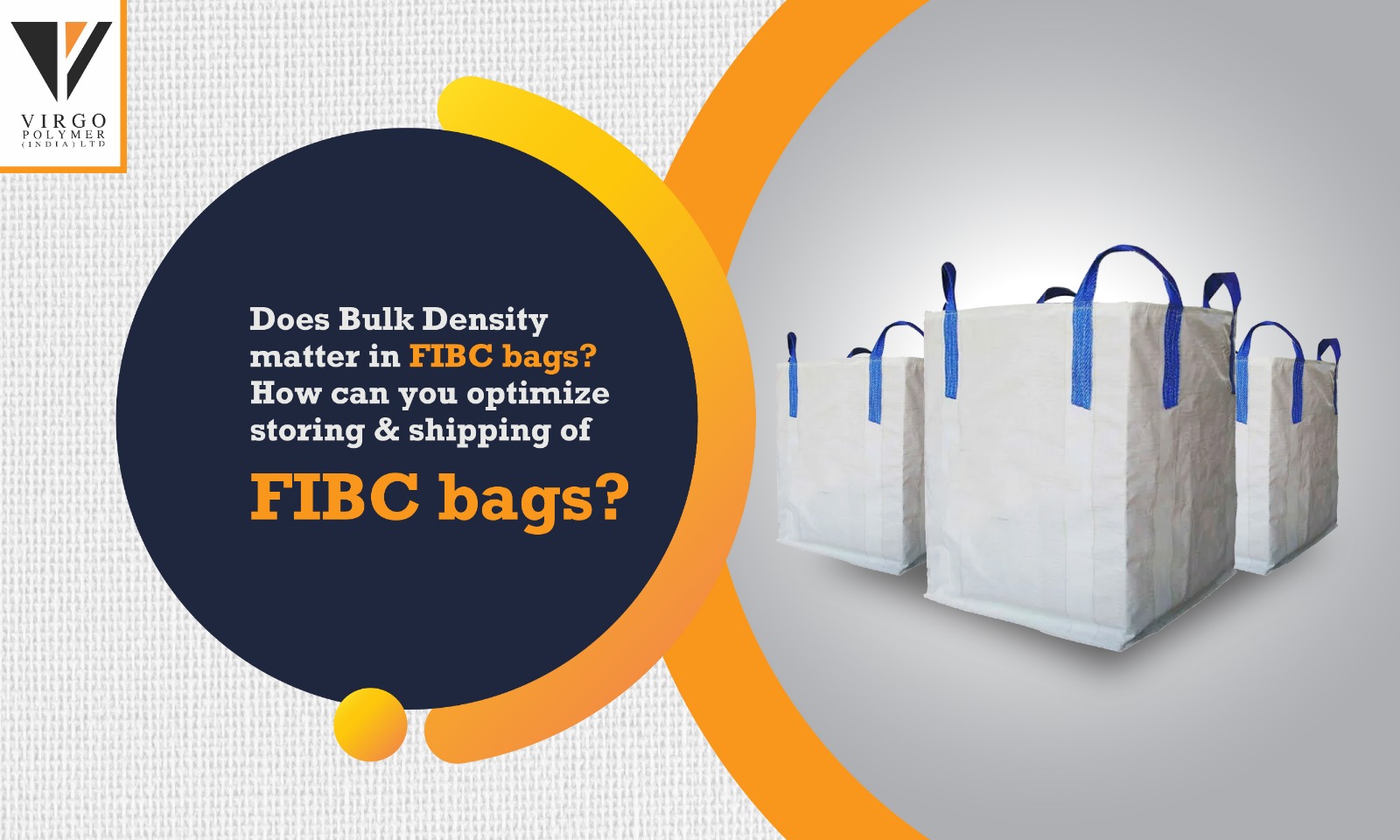 How can you optimize storing and shipping of FIBC bags?
Bulk density is an important factor to consider when using FIBC bags for material storage or transportation. You may determine the weight of the material that can be kept or carried in a given volume by computing the bulk density of the material in the FIBC bag. This information is crucial for organizing and maximizing storage and transportation since it makes it possible to calculate how many bags can fit on a truck or container and how much storage space is needed.
What exactly is Bulk density?
The bulk density measures how much mass is there per volume of powdered materials or tiny grains when a product is in a bulk state. The quantity of particles or substances that can be comfortably and safely packed into a certain amount of space (a FIBC Bulk Bag) is determined by the substance's bulk density.
In this blog, we will explain why Bulk Density is important in FIBC design, as well as provide you with some insights to optimize storing and shipping FIBC bags efficiently.
Bulk Density- Why does it matter in FIBC design?
The bulk density of a product affects a wide range of design decisions, including the filling and discharging methods you choose and the overall size of your FIBC Bag.
Overlooking or neglecting the substance's bulk density can affect the handling of the FIBC bags. Bags with a high bulk density can be heavy and difficult to lift or move, which can increase the risk of injury. Bags with a low bulk density can be bulky and unstable, making them more likely to shift or collapse during transportation or storage. Hence, not knowing a product's bulk density makes long-term storage problematic.
Whereas over or underestimating the Bulk Density of goods or materials can result in inaccurate target weight per bag estimation. It can result in shipping procedures that might later have variable and erroneous storage needs, endangering the safety of those in charge of these systems.
Goods' and materials' bulk densities are more likely to modify due to real-world problems. Keeping up with current events can help to alleviate problems concerning product filling, storing, shipping, and safety.
Furthermore, choosing compaction during storage will result in a large amount of headspace being consumed by the product. During the filling process, it can lead to the incorrect impression that the bag does not hold as many items as it should.
And finally, the bulk density of a product can be altered by the entry of moisture during storage and transit, especially in damp or humid settings. This can lead to a greater weight of products than the predicted one. Therefore, it is crucial to provide the Bulk Density in FIBC Design with the utmost consideration.
Optimizing storing and shipping of FIBC bags
Now that you are aware of the importance of bulk density, let us move on to learn some ways to effectively optimize storing and shipping FIBC bags efficiently while avoiding problems with bulk density.
• Choose coating or liners to prevent external contamination
Coating and liners are the two best techniques to stop outside pollutants from getting inside the bag. As mentioned earlier, the product's bulk density is most likely to be impacted when storing and moving materials inside FIBC bulk bags in damp or wet environments. The Bulk Density of the product won't likely alter with the use of FIBC Bulk Bags with integrated poly liners or coating. A spout or duffel-top FIBC bags work well with poly liners that can be attached to the inside or outside of the bag to prevent liner discharge.
• Go a little overboard with FIBC bag strength
In order to ensure that your FIBC Bulk Bag safety won't be compromised, regardless of the product's bulk density, we advise going a bit overboard with FIBC Bag strength and choosing a safety factor.
It will be essential, especially when storing and transporting goods in damp and humid conditions, where changes in the goods' bulk densities won't significantly affect the performance of the bags.
• Choosing the best discharging option
Many consumers frequently overlook the relevance of suitable discharging options when paying close attention to the selection of the filling top. Choose the discharge choice depending on the material you'll put inside the bag.
Final thoughts
Bulk density can assist in choosing the right type and size of FIBC bag to utilize for a specific material. Considering there are various types of FIBC bags designed to handle a certain material with a specific bulk density- It is important to choose the correct bag for the material at hand to ensure secure and effective storage and transportation.
Or, you can simply contact us! At Virgo Polymer Pvt Ltd, we will assist you in choosing the ideal bulk density for your FIBC bag depending on your needs and the goods they intend to fill it with. Also, we provide guidelines for handling FIBC bags securely and effectively.
Call
+91 90030 48815
to know more or email us at
info@virgopolymer.com