Date: 14 Mar, 2023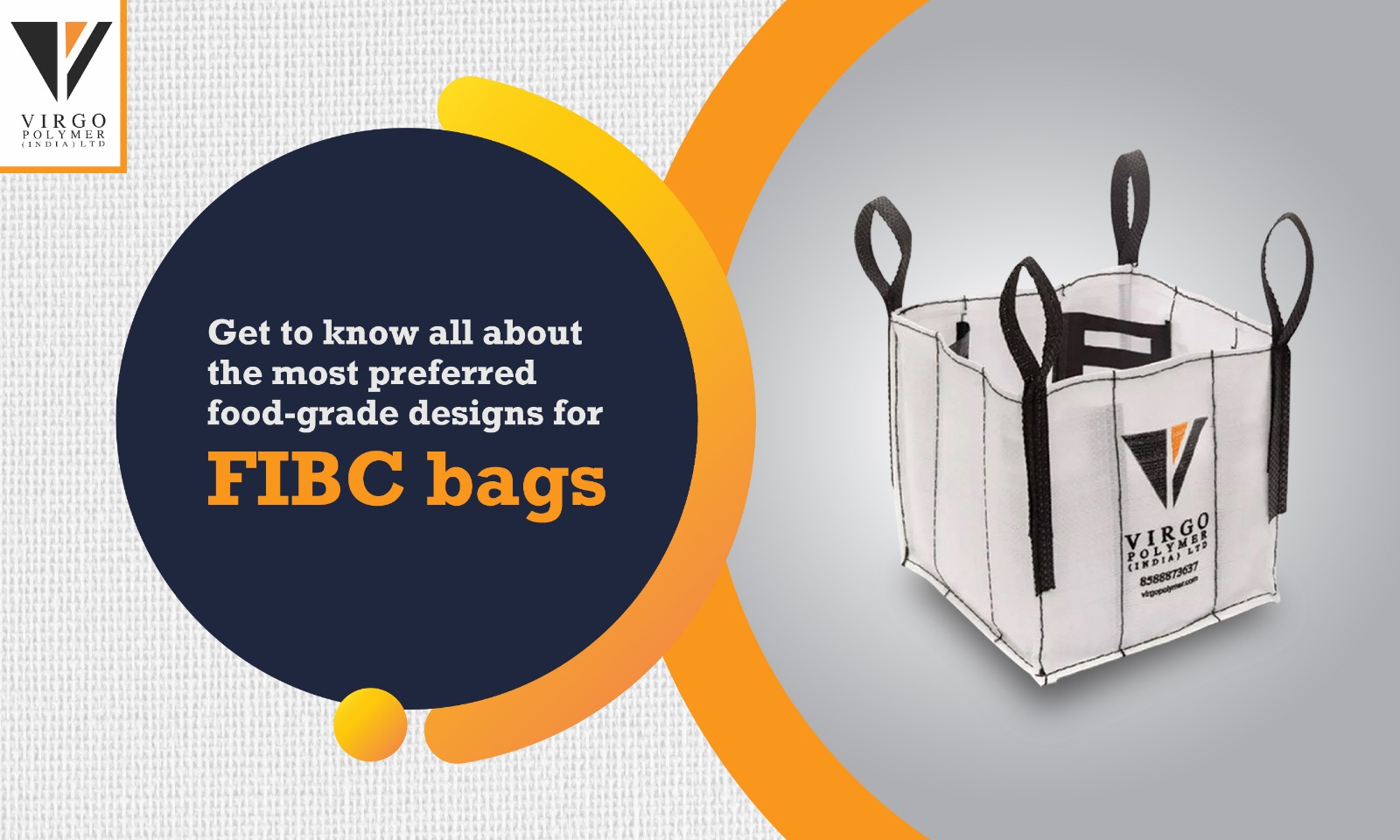 In the food business, dry bulk items like grains, sugar, and flour are frequently transported and stored in flexible intermediate bulk containers (FIBCs), usually referred to as bulk bags. As opposed to conventional packing techniques, they offer a number of benefits, including cost-effectiveness, space efficiency, and ease of handling. The performance and safety of FIBCs, particularly when it comes to food goods, can be considerably impacted by their design.
Food-grade FIBC bags are a specific type of flexible intermediate bulk containers (FIBC) that are designed and manufactured to meet the highest safety and quality standards required for food-grade products. These bags are made of food-grade polypropylene material, which is FDA-approved and meets the standards of various regulatory agencies.
In this blog post, we will walk you through some of the most commonly used design varieties for food-grade FIBC bags.
Food-grade FIBC bulk bag designs
Opting for one that works best for your product
Bulk bags come in several different types, each designed for different actions, activities, or processes. Due to their distinctive designs, each of these bags is used to exhibit a different functionality. That is why a lot of thought goes into the design of a bag. The seams of a bag are strategically placed to provide you with every convenience you need on a daily basis.
These attributes could include adaptability to various spout styles, the capacity to stand up with a specific liner, or the capacity to pack them so you can utilize every available inch of space. Let us now look at some of the most commonly used food-grade designs for FIBC bags.
• Open-top and flat-bottom FIBC bags
This design has an open top and a flat bottom that make it simple to fill and empty food products. Spouts, closures, and liners are just a few of the characteristics that these bags might have to make sure the contents are handled safely and effectively.
• Duffle top and spout bottom FIBC bags
This design has a duffel top that makes it simple to open and load the bag and a spout bottom that makes it simple to empty the contents. Fine powders and granular food ingredients that need a regulated flow and little dusting are frequently put in these bags.
• FIBC bags with filling spouts
A filling funnel in this design enables careful and controlled filling of the bag. These bags have many spouts that can be used to fill the bag at once, speeding up production and cutting down on filling time.
• FIBC bags with discharge spouts
A discharge spout in this design enables accurate and controlled discharge of the contents. Depending on the particular needs of the food product, these bags can be equipped with a variety of discharge choices, including flat spouts, conical spouts, and pyramid spouts.
• FIBC bags with linersy
For added food product safety, this design incorporates a polyethylene or polypropylene liner that is put inside the bag. The liners come in various thicknesses and can be heat-sealed or knotted to increase security.
• FIBC bags with baffles
Internal baffles in this design facilitate the flow of the contents while ensuring structural stability. In order to ensure that the contents are dispersed equally and the bag keeps its shape during storage and transit, baffles are used to keep the bag from bulging or sagging.
• FIBC bags with lifting loops
For safe and simple handling of the bag, this design includes numerous lifting loops that are sewn into the bag. The loops can be tailored to meet particular lifting and weight needs and are constructed of dependable polypropylene material.
• Circular Woven FIBC Bags
These bags are constructed with a circularly woven fabric for increased strength and durability. They are perfect for demanding applications and can survive difficult handling situations.
• Conductive FIBC Bags
These bags are intended for use with food products that are static-sensitive. Due to the conductive elements used in their construction, they effectively disperse static energy and prevent sparks.
You can design your bags to be a true problem-solving asset depending on the demands of your industry, product, and whether it will help your business processes.
For instance, you may even consider the following ideas to design a bulk bag design to help you accomplish particular objectives:
Produce bags include breathable weaves that protect while allowing for airflow.
To protect the merchandise, seams on bags can be turned inside out.
To enclose the bag, formed liners can be fastened to the top and bottom spouts.
You may see whether any liner material comes off during any stage of processing by adding color to your bag's lining.
You can further improve protection by adding various film characteristics to the lining of your backpack.
Your products—especially food—can be preserved and protected during storage and transportation with the help of a high-quality nitrogen flush and seal.
Bags that are simple to stack, such as Baffle or Clover bags, aid in preventing damage during packing.
Conclusion
In short, there are various FIBC bag types made specifically for the food sector, each with special features and advantages. To ensure the effective and safe handling of food goods, it is crucial to select the proper type of bag for your particular application.
Partner with the right manufacturer who will help you maximize internal efficiency.
At Virgo Polymers, we take great pride in manufacturing high-quality FIBC bags as well as providing reliable and timely information. Contact us today to know how we can assist to improve your company's daily operations.