Date: 21 May, 2022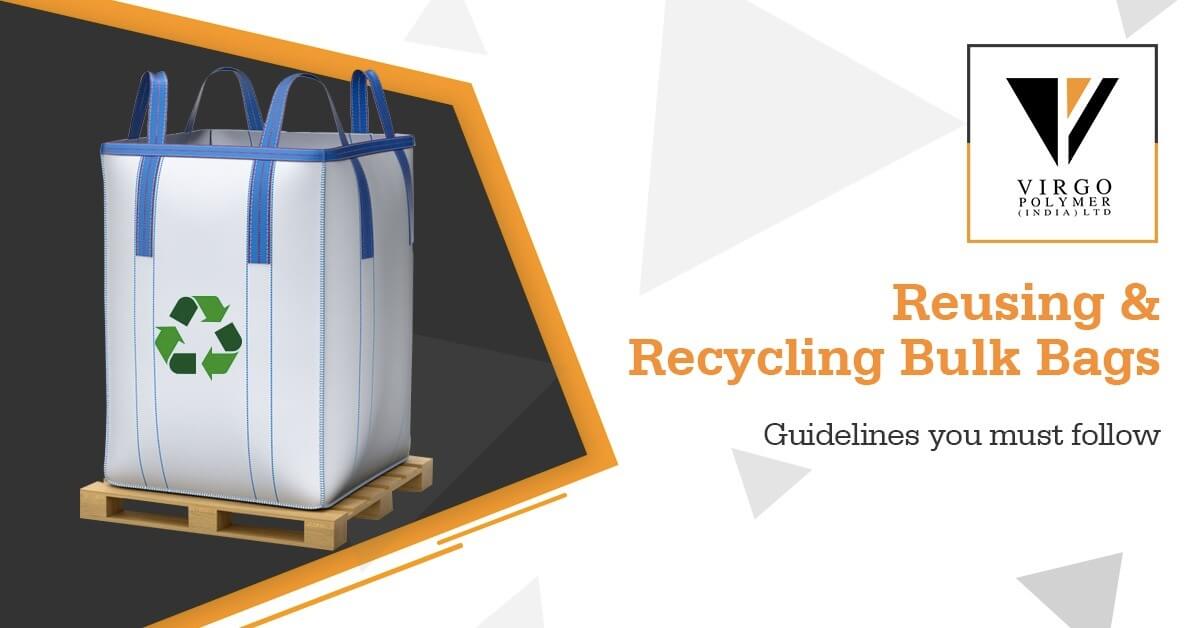 Here are some guidelines you must follow!
FIBCs are easily the most widely used solutions for industrial packaging. Given the amount of usage globally, it is absolutely essential for businesses using FIBCs to take appropriate steps towards waste management.
Reusing and recycling of bulk bags are strongly recommended to reduce the environmental impact of FIBC usage.
But one must follow certain guidelines when it comes to reuse and recycle of bulk bags in order to avoid any hazardous outcomes.
REUSE, BUT RESPONSIBLY
Although businesses sometimes persist on reusing bulk bags until the wear and tear stage of the FIBC, it is advisable to not do so. Once the fabric starts weakening, it can cause considerable damage to the products being stored, and in case of heavier material, or hazardous goods, any accidental spillage due to the repeated usage of the bulk bag could prove to be extremely harmful to the handlers.
SAFETY FACTOR (SF) & SAFE WORKING LOAD (SWL)
These are the factors that determine whether your bulk bag is suited for multiple uses, or if it's a single-use FIBC. Note that a single-use bag with a Safety Factor ratio of 5:1 can safely contain 5 times the amount of the bag's Safe Working Load.
If you are looking at reusing the bulk bag, it can only be done with FIBCs that have 6:1 SF.
CAREFUL ABOUT CONTAMINATION
Many FIBCs are simply not considered safe for reuse. For instance, if the bulk bag was used to store or transport chemicals previously, it should not be reused for food-grade products or any kind of agricultural produce, in order to avoid product contamination.
Before deciding to reuse an FIBC, always do a thorough check for the below:
1. Any sign of damage
2. If there's any dampness
3. Whether the bag has been thoroughly cleaned
4. If all reconditioning measures have been taken
WAYS TO RECYCLE YOUR FIBC
Once your bulk bags have been used to their maximum potential, instead of disposing of them, you can recycle them. Here are the sustainable steps you can take to ensure your FIBC does not just end up in a landfill.
- FIBCs are manufactured using virgin polypropylene, which means they can be recycled into plastic products
- Bulk bags can be repurposed provided they are carefully segregated into their respective recycling grades depending on the contents of the bags